Hayward is a well known name in the pool business. They manufacture a variety of products ranging from salt systems to pumps and filters to automatic pool cleaners. They produce quality products with great warranties and offer exceptional customer service. For the past several seasons, Hayward has offered rebates on many of their products. This season from April 9th to July 8th, Hayward is doing it again.
Shown below are the products rebates are offered on and their respective rebate amounts.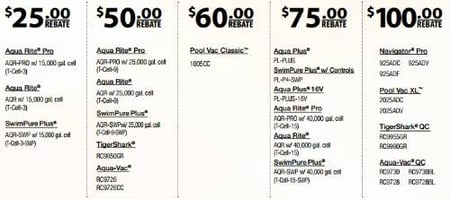 To redeem the rebate after purchasing one of these products you need to mail Hayward a form we will include in any purchase, a copy of the sales receipt, and the original warranty registration form. Within 6 to 8 weeks you would receive your rebate in the form of a VISA credit card.
Hayward's most popular products would probably be the SuperPump and the AquaRite Salt System. The SuperPump is a great in ground pool pump. It offers easy access to its strainer basket, a heavy duty motor that is optimized for quite, cool, and efficient operation, and a design that makes it easy to service. It comes in models ranging from 0.5 to 2.5 horsepower and comes in several dual speed models for better energy efficiency. The AquaRite Salt System comes in a variety of models but each serves a basic purpose…To sanitize your pool. The AquaRite can produce up to 1.45 pounds of chlorine per day which is enough to sanitize pools up to 40,000 gallons. The beauty of salt chlorination is that you rarely have to add more salt. If you don't have a 40,000 gallon pool, don't worry, AquaRite also comes in 25,000 and 15,000 gallon models to accommodate your specific needs. AquaRite comes in a Plus model which adds a Control Center. This Control Center can be used to control all of your pool's functions including the pump, heater, automatic cleaner, solar panels, salt system, and lights. It can also be expanded to automatically add chemicals to your pool when needed and can be remotely controlled by your computer or smartphone. As with most timers, the Control Center offers freeze protection if you run your equipment in the winter and will turn your pump on to prevent freeze-ups and damaged equipment.
If you need to upgrade your salt system, pool cleaner or even any of the other products offered by Hayword, now would be a great time considering you can take advantage of the rebates Hayword is offering.