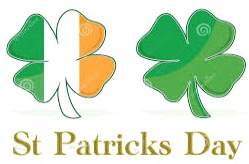 Where ever you go and whatever you do, may the luck of the Irish be there with you. For your pool needs, whether small or grand, Royal Swimming Pools will lend you a hand.
The day commemorates Saint Patrick and the arrival of Christianity in Ireland, as well as celebrates the heritage and culture of the Irish in general. Celebrations generally involve public parades and festivals, céilithe, and the wearing of green attire or shamrocks.
Saint Patrick's Day is a public holiday in the Republic of Ireland, Northern Ireland, Newfoundland and Labrador and Montserrat. It is also widely celebrated by the Irish Diaspora around the world; especially in Britain, Canada, the United States, Argentina, Australia and New Zealand.
With Saint Patrick's Day approaching and its parades all over the world, it puts us in the mindset of fun festive times and warmer weather. With warmer weather knocking at our door, we look forward to blissfulness of getting into our swimming pools and summer time fun. There are so many way to enjoy your pool. You could lay out at the pool side or have friends over for a pool party swim. At night, with the pool lights on, enjoy the relaxation and tranquility the pool has to offer. On those hot days, take a dip in the pool to cool off as well as have an enjoyable swim.
We should never forget the unforgettable time we spend with friends and family at cookouts on the grill right on the patio. You may have a gas or charcoal grill to cook anything from a small meal to a large family feast. Then there are those who have the outdoor fire pit and enjoy the sounds of a crackling fire on the patio, either way, it all adds up to fun for friends and family alike.
When your pool is green, it is not in celebration of Saint Patrick's Day, let us here at Royal Swimming Pools help guide you to a blue pool and a great summer time swimming experience. Check out our Pool Opening Guide.