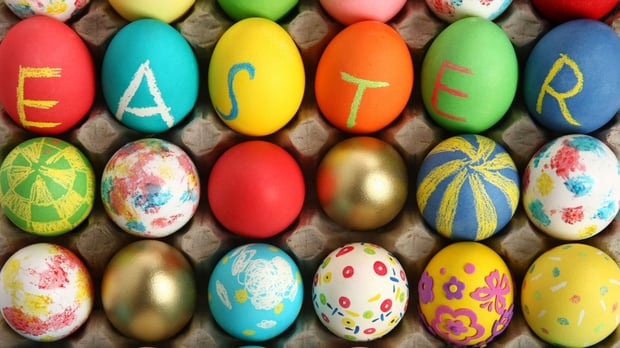 Happy Easter to you all from everyone here at Royal Swimming Pools! No matter your reason for observing this holiday, it has become a celebration loved by many, with an emphasis on family, food, and various traditions. One tradition which might seem extremely odd to an outsider is that of decorating Easter eggs! This fun activity has been around for centuries, and may have derived from Polish and Slavic influence, whose cultures see the egg as a representation of new life. While some people have moved away from real eggs, replacing them with plastic, chocolate, or more decorative glass eggs, many still keep with tradition by using real chicken eggs. You can hard boil them, "blow them out" by getting rid of the liquid inside, or simply decorate them as-is the day of. Whether you plan to hide your eggs and have an official egg hunt, put the eggs in an Easter basket along with candy and other treats, or have them around the house as decoration, this tradition allows you to show off your creative side! Below are some favorite ideas from Reader's Digest for unique ways to decorate your eggs this year – for more, check out the full article below!
Paint your eggs with chalkboard paint, which can be found at any craft store. Once the eggs are fully dry, chalk them up! If parents paint the eggs beforehand, the chalk is a virtually no-mess decorating idea for young kids.
For a more crafty, intricate design, dye your eggs whatever color you desire, leaving a third of the top side of the egg free from dye. Once the eggs are dry, paint a boarder around the small, white oval left without dye. Apply lettered stickers, either with initials or full names, and use your eggs as place cards!
For another fun, easy design idea, simply use black Sharpie markers to create decorative designs on your eggs. While they may not be colorful, the use of these fine-tipped markers allows for detailed patterns and artwork. Aside from the markers being permanent, this is another easy, less-mess activity for kids.
For bright pops of color and pizazz, dye eggs your desired color. After they dry completely, draw circles of glue (in varying sizes) onto the egg. One side at a time, sprinkle loose glitter over the dots of glue for sparkling, glittering eggs!
For more detailed explanations of the above designs, plus more decorating ideas, click here!
For even more Easter tips and ideas, visit Reader's Digest's other Easter pages:
Easter baskets: http://www.rd.com/slideshows/easter-basket-ideas/
Easter crafts: http://www.rd.com/slideshows/easter-crafts/
Easter dyes: http://www.rd.com/slideshows/homemade-easter-egg-dye/