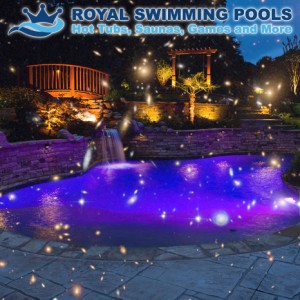 As the summer comes to a close and fall weather sets in, many people begin thinking about pumpkin spice lattes, Halloween costumes, and when the first snow flurry will appear. As you sit curled up in a blanket, watching the leaves fall, have you ever daydreamed about your ideal pool? It seems only natural to focus your thoughts on the impending cooler months, the latest jacket trends, or which store will offer the best deal on wrapping paper, but take a minute to lose yourself in paradise: what would your dream pool look like?
For the customer who may be new to pool shopping, you came to the right place. At Royal Swimming Pools, dream pools become a reality. We offer custom-designed pool kits which allow our customers to hand-pick what they would like to include in their one-of-a-kind, build-it-yourself creation. Anything from our 20 standard inground pool shapes, down to various selections of swimouts and pool lights, all are our customers' choice. If a customer does not see what he or she has in mind for a pool shape or any other detail, they may contact us directly and discuss options for an even more personalized, custom pool kit. We also strive to make our customers' pool-building experience easy and straight-forward; we include optional plumbing kits, auto cleaners, and various chemical packages/individual products as additions for our customers' orders. We seek to provide everyone with the opportunity to design their ideal getaway and ensure a quick, simple pool construction with the necessary materials readily available at the click of a button.
In addition to our custom options for pool kits, Royal Swimming Pools offers various outdoor, poolside accessories. Increasing in popularity are outdoor kitchens and lounge areas. If you are looking to entertain friends and neighbors, or simply create a space for you and your family to truly enjoy your outdoor pool area, consider Tejas Ready-To-Finish Outdoor Kitchens. Tejas provides the same do-it-yourself experience as Royal's pool kits, and add to the outdoor pool environment. As the leading manufacturer of outdoor kitchens, Tejas is unique in its simplicity and custom design. The cabinets are easy to maneuver into any backyard or outdoor space, and are also quick and easy to assemble, deemed by most to be the fastest on the market. Whether customers are looking to keep their outdoor kitchen simple or include multiple accessories, Tejas cabinets are custom designed to fit various appliances such as smokers, refrigerators, and even power burners. Royal Swimming Pools offers some of the most popular items to include in your outdoor kitchen to make your summer barbeque a success! On our website customers can find gas, charcoal, and ceramic grills. Rising in esteem is the Primo ceramic grill, preferred for its simple internals, lower price range, and unique oval shape which ensures even, thorough cooking of various food items. Soon to come is a full, ready-to-finish outdoor kitchen package on the Royal Swimming Pools website, giving customers the ability to design their outdoor kitchen with full control, all on one website!
This fall and winter season, fix your thoughts on the summer months to come, let your imagination roam wild, and take advantage of all Royal Swimming Pools has to offer! From various accessories to pool and outdoor kitchen kits, at Royal the thought is this: the more customized our orders can be and the simpler we can make the building process, the sooner our customers can enjoy building their dreams into reality!