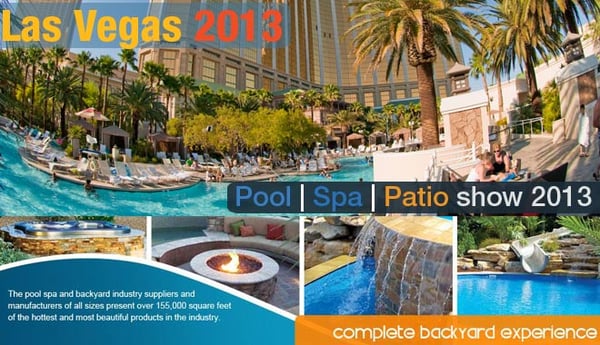 Royal Swimming Pools Inc. is proud to announce that we will be attending the 2013 International Pool Spa and Patio Expo which is being held in Las Vegas! This event will be host to the industry's top professionals and will have most major manufacturers, retailers, builders, and service professionals on hand. As an industry professional, we feel attending this expo is a huge opportunity that will allow us to expand our product line, industry networking, knowledge, and much more.
The exhibit show case will be held November 12-14 and will feature over 550 manufacturers, distributors and representatives from around the world. They will be displaying products, services and equipment for the pool, spa and backyard industry. Along with such a great line of exhibitors, this event features top notch educational seminars hosted by APSP, NSPF, NPC, Genesis 3, and many more from November 9-14. These seminars include certification prep courses and certification programs.
A key part of this event is the opportunity to network and create business relationships that will last a lifetime. The main events held this year includes a welcome party, Saber BBQ bash, APSP town meeting, Genesis 3 winemaker dinner and a treasure quest that will feature some great prizes.
Not only are we we are excited to attend some powerful educational seminars and review new products, we are also excited that attending this show will give us an opportunity to bring wealths of new information and revolutionary products to you - the customer!